Since my last blog post aptly titled, "What's Next" was written back in August of 2016, quite a lot has happened.
Clearly updating/maintaining this site with the blog posts/content I had intended were not one of the things that happened, however, I'm proud to read through my last post and report how the 5-10 year goal I wrote and the timeline I set are coming to fruition.
Love my job (& how part of it is working directly with startups and indie game dev studios)

Shoutout to Gainesville's Chromatic Games & support their Kickstarter: HERE

Pursuing my MBA (at Babson, the #1 Entrepreneurship program for over 2 decades)
Growing Hopping 4 A Cure (Awarded 2 Scholarships in 2018 to students in Florida diagnosed with Multiple Sclerosis!)
Professionally, life really is awesome. Very lucky to have a great relationship with my manager and colleagues.
Personally, life has been OK. Throughout 2017 I knew something was different though I could not pinpoint exactly what felt off. It wasn't until 2018 that truly slapped me in the face – and it was not my receding hairline…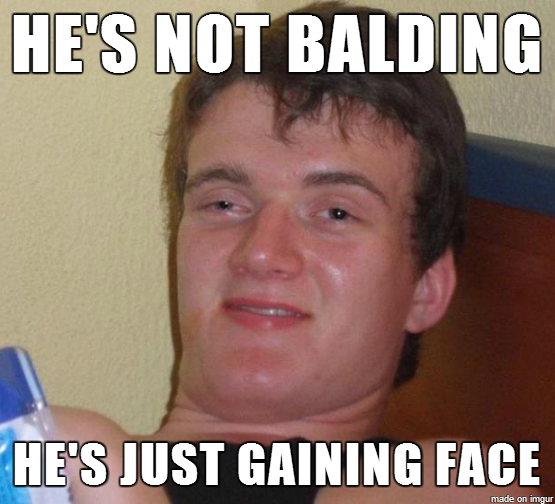 It took me a few months to truly process everything that happened at Stoneman Douglas, months to realize the importance of community, and a deep conversation with a new friend to motivate myself to take action. (TLDR; Community is Important.)
The motivation/idea that sparked this post came from a message I received on LinkedIn about speaking at a pretty cool event in San Francisco (see image).
"Avant-garde experience in SF… This is the 4th of 50 that we are going to do this year in cities around the world… 4 highly successful executives-by-day are invited to be storytellers-by-night…You'll have a chance to tell a 5 minute never-before-told story."
Of course this sounded awesome, though I needed to think of a ' 5 minute never-before-told story'. If we have ever met, you know that my stories usually take forever, and that I enjoy sharing my good (debatable) stories with anyone who has the patience to listen.
Though I did not share this story with others at the event, I believe it is a message worth sharing to those open to hearing it, and I am ready to share.
I was lucky for the first 20 years of my life to have never experienced loss of anyone I was close with. Sure, I knew people who passed away, though it was never anyone in my friends group or close relative.
Saturday evening, the second week of January 2015. I was in a hotel room with my mom the night before running the Disney Marathon when I remember getting a few texts from his roommate asking if I had heard from him or knew where he was. Didn't think anything about it until I got back to Gainesville and learned Jerry DeClasse had been in a coma at UF Shands following a hit and run. I had lunch with him a few days before and everything seemed normal.
The strangest feeling, was the realization of how close he and I had become since starting at UF two years prior. The realization he was my best friend. There were a few news articles about the incident painting a horrible picture of him based on the location of town he was in and the color of his skin. Not only were police asking me to describe him as I knew him, but his parents were asking me the same questions since I knew him more than any other. I've never had to attend a funeral before, let alone be asked to speak at one. It really messed me up.
I did, and although I still feel waves of emotion, I'll never forget those who reached out just to say hi and let me know they were there if I needed anything. The circumstances of the shooting at my high school were dramatically different. The San Francisco/Bay Area is physically one of the farthest places in the US from my home.
After living here for over a year, the "friends" and the people I hung around were cool, interesting and nice people, though they really weren't there for me when I needed them. It took me time to process exactly what had happened at Stoneman Douglas High School, though it didn't take me much longer to realize I didn't have the same support group or community I needed.
There is never a good time, or a right way to reach out to someone after something traumatic happened. There is never (or should never) be any expectation that people should/would reach out to ask for or offer support. The reality is, people don't know how certain things affect others or how to react when something serious does happen. The best thing to do, if anything (in my opinion), is to reach out so say "Hang in there, I am here to talk if you need someone."
I'll never forget the VP I support at Intel approached me the next day in the Cafe, sat down and spent a few minutes simply making sure I was OK. That was one of the most impact moments in my time so far at Intel, and he is one of the major reasons I accepted my job & continue to work here.
In contrast, One of the people I thought was the closest friends I had out here did reach out after everything happened – around a week after.
I know at UF, I had a reputation for being the entrepreneurship/business guy who was happy to help or connect you with someone. As she knows, I still very much am that guy who is willing to help or provide perspective.
This is the message was my way of giving off a sign really asking for help and someone to talk with. Without knowing context, it may not read as desperate as I was when I wrote it.
We did make plans. Plans that one of us forgot about.
Yes, they could have been more solid or specific. I could have reached out to confirm. I didn't. Her not remembering the plans we made even after she said she put it in their calendar was all I needed to not reach out again. I haven't since, and aside from a random, impersonal message on snapchat, I can't remember the last time I saw her or others in the group we were in.
I did it to myself. It is/was a immature. I do not regret it. Why waste time always being the person reaching out to everyone who never reach out to you? I was that guy and I hated it. I still hate it. If someone else values the relationship, and you live close enough to get together every once in a while, there shouldn't be any excuse to reach out and say hello. This person and I live five minutes from each other and what could have been an awesome friendship isn't due to a lack of empathy and EQ.
Over the last year – I have made a real effort to do some introspection, attempting to understand why I was unsuccessful in cultivating the right community here in the Bay Area, even comparing it to what I was doing in Florida that organically cultivated a strong community without even thinking about it.
In a uniquely, uninhibited conversation with a new friend, Carolina, the first answer appeared. A couple months later at a Meeting of the Minds, (led by Jared, one of the most amazing people I know) some of the strangest 'synchronicities' revealed another. Along this personal journey, I realized the importance of vulnerability in connection. It may be the California life rubbing off on me, though I've had more transformative, stimulating conversations in the last few months than I can remember having in the last few years. I also realized that since moving to California, I had stopped hosting events or organizing activities like I used to in Florida. I've been waiting for invitations from others or going to other events/activities hosted by others.
In the last 8 months, I've hosted a number of potlucks and picnics across the Bay Area. These events are invite only, sent to people I know and want to get to know more via personal texts and FB messages. The coolest part is that the people I've invited wanted to re-connect with others they met at one of my previous events, so I created a private FB group that you only get invited to once you attend one of the events and show interest in joining. It is intentionally a small group right now and I'll continue to focus on cultivating this community into something special.
As it grows, There will be events organized exclusively for people who have previously attended one of the community's potluck or picnic events along two main focus areas: Personal Connection & Professional Development. Professionally, we organize events/activities focused on helping others grow their companies, in their jobs, or build an idea. Personally, we host curated gatherings structured to establish, strengthen, and grow relationships with yourself and others in the community.
Valentines Day Weekend, the anniversary of the shooting, I hosted one of the most unique events yet, calling it a 'Thought-luck' (name still WIP) focused on the personal connection pillar. Due to coordinating holiday weekend schedules, I hosted two, limiting the number of attendance for each. Without going into too much detail, we spent hours really getting to know each other through sharing stories and experiences many of us haven't even told family.
Taking it back to how this all started, The event in San Francisco that inspired this post was one of the best experiences I've had living in the Bay Area so far. I'm still keeping in touch with a few of those new friends I had met through that event. Some of their stories were incredible as well!
As for what's next for me at this point? I'm looking forward to finishing my 2nd semester of MBA life this week, GDC at the end of the month, and excited to continue hosting some more amazing Potlucks & Picnics and make the most of this amazing Spring weather.